Tooth Decay is the Number 1 Disease for 50% of Australian Children Aged Under Six!
That number is STAGGERING!
Could your child be a part of this statistic?
Don't worry, we have just the solution.
Grin is on a major mission to help reduce this number, as untreated decay in children's teeth can have implications that reach far into adulthood.
The solution: FLOSSING.
Flossing is cheaper than restorative dental care (oh yes!) and is extremely important in removing cavity causing plaque from between yours and your child's teeth.
To help fight tooth decay at your place, and avoid sky high dental care costs, from June 16 - 30, purchase any Grin Kids product (as shown below) from Coles supermarkets, and Grin will send you an Adult Flossers Pack for FREE - simply complete the form below and upload your proof of purchase.
Grin Natural is the only kid's flosser available in Coles supermarkets!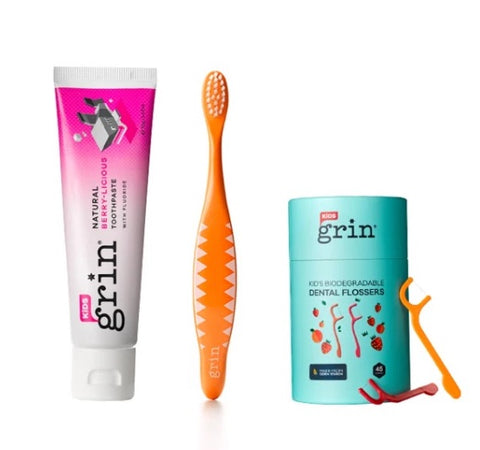 Terms & Conditions
Grin Natural 'Let's Get Our Floss On!' campaign is valid for all customers who have purchased a participating Grin product from Coles supermarket, Australia. Products include: Grin Kid's Natural Berry-licious toothpaste, Grin Biodegradable Kid's Toothbrush or Grin Kid's Biodegradable Dental Flossers. Each valid entry will entitle the entrant to one free Grin Adults Dental Flossers 45 pack box, delivered to any residential Australian address. Valid entries must include proof of purchase i.e. receipt, or photo of purchased flossers at home, along with contact and postal address. Postal address is used for the sole purpose of receiving your free Grin flosser product. Should an entrant not be able to be provided with a free flosser product, they will be contacted by Grin Natural. Promotion valid from June 16 to June 30, 2021 or while stocks last. This promotion is managed solely by Grin Natural Ltd, and is not facilitated by Coles Supermarkets. For any questions or for further information, please don't hesitate to contact us at auinfo@grinnatural.com